Like you, I have been thinking a lot about math this summer. I have had a lot of questions about how I keep my math stations going AND pull small groups. How can I keep kindergartners working independently? Well… I think the key is keeping the stations familiar, but changing them enough to keep them engaging and self extending. Little Miss Kindergarten has created some great math stations that support this idea.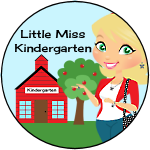 She has some great math stations that can be maintained throughout the year.
This is her FREEBIE:
Click on the image for your FREEBIE!!!
And this one can be purchased at her store
Click on the image to go to her TpT store.
You can differentiate them by changing the dice you have your students use.
Finally… I am so excited that I got my BINGO stampers (thank you Fran for the Dollar Store shout-out) because her counting book is going to be PERFECT!
Click on the image to go to her TpT store.
There are sOoO many great ideas out there! Keep um' coming!!!!!
✕
Get Your Free Guide!
Subscribe to get our latest content by email and this free Parent's Guide to Phonemic Awareness!