So a huge thank you to

for your super kind words about my blog!!!!
Check out her freebie!!
Then there is also….
Click to jump to her planning page
Great planning page from Mrs. Sether's Kindergarten. Thank you for your kind words about my blog!!!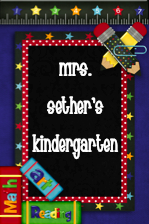 Now here is the a MAJOR treasure. You all know how much I L-L-LOVE Kim Adsit's math stations. I mean capital L, to the O, to the VE! SQUEALLLLL !!! She has a blog now. Actually, she has teamed up with her daughter (I'm just a wee bit jealous of Megan) to create…
Holy enchilada! Their blog is beautiful! It is filled with pictures of their classroom in action. Oh my goodness!
LOVE IT!